Health and Wellness
---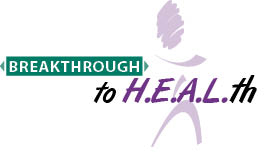 Living with a mental illness can be overwhelming, but we believe in balancing our lives to help overcome the obstacles of our mental illnesses. A great way to do this is to focus on our physical health. Doing so will not only help our bodies to become healthier, but it will also help improve our mental health. Research has shown that physically active people have higher positive self-concept, more self-esteem and more positive "moods" and "affects." More-active people also seem to have a higher perceived ability to perform activities of daily living, physical well-being and other measures related to quality of life.
The H.E.A.L. Project
"Committed to helping people live longer, healthier lives."
To help with our health and wellness efforts, we received a matching grant from the Robert Wood Johnson Foundation (RWJF), the nation's largest philanthropy devoted to health and health care. The grant is used for our Health Education and Leadership (H.E.A.L.) project, which was created with the goal of empowering individuals who have a serious mental illness to take charge of their wellbeing through physical activity and healthy nutrition skills.
H.E.A.L. Project includes:
-continuous program, on Monday and Thursday
-personal fitness plan designed with a H.E.A.L. specialist
-opportunities to participate in an array of physical activities
-hands-on cooking classes with healthy, affordable food options
-access to Genesis Health Club personal trainers
-leadership opportunities
-peer support groups
All services are FREE to Breakthrough and MHA members!!!
For more information on the H.E.A.L project contact the H.E.A.L. Project Coordinator, Marty Quy, at Breakthrough 316.269.2534 ext. 118, or e-mail marty.quy@btcwichita.com
Healthy Tips
-Eat breakfast like a king, lunch like a prince, and dinner like a beggar
-Keep healthy snacks, like almond, dried fruit, and trail mix, handy
-Schedule your workouts, and stick to it!
-If you're unmotivated, commit to at least 10 minutes of exercise
-Think of a good night's sleep as a necessity
-Aim for 5-a-day servings of fruits and veggies
-Learn how to say "No" politely when people offer food
-Eat slowly, being aware of when you become full, chewing your food at least 30 times before swallowing
---
Healthy Recipes for Summer